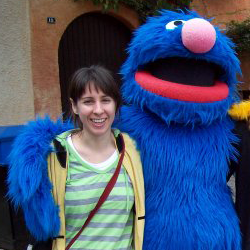 I completed a Bachelor of Pharmacy and Biochemistry at the Universities of Navarra and Zaragoza respectively. I studied a MSci in Design, Research and Development of drugs at the University of Navarra and then moved to the The Institute of Nanoscience of Aragon to undertake a PhD in "Nanoparticle synthesis and functionalization for biomedical applications", under the supervision of Dr. Jesús Martínez de la Fuente and Dr. Valeria Grazú. I started my postdoctoral period in the same Institute to work on cellular responses after applying magnetic hyperthermia. My research interests lie between the functionalization of nanoparticles with biomolecules and the effects that these materials can cause in cells.
Position: Postdoc Researcher
Group Member Since: 2006
Nationality: Spanish
Email: mamoros@unizar.es
Tel: +34 876 555448
Research Interests:  Inorganic Nanoparticles, Biofunctionalization, Hyperthermia, Molecular Expression, Endocytosis, Targeting, Nanotoxicology
Hobbies: In my spare time I enjoy skiing, travelling, and having beers with my friends.