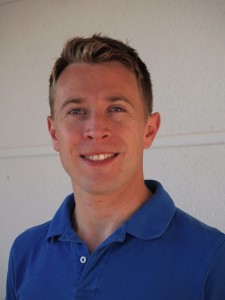 Dr. Scott Mitchell is a CSIC researcher at the Institute of Materials Science of Aragón (ICMA). As a native of Glasgow, he attended The University of Glasgow (U.K.), graduating in June 2005 with an M.Sci.(Hons) in Chemistry and Medicinal Chemistry with a European Placement (at Charles University, Prague (Czech Republic) under the supervision of Prof. Martin Kotora). He obtained joint EPSRC-/BP Chemicals-sponsored Ph.D. from The university of Glasgow in 2010 under the supervision of Prof. Lee Cronin FRSE and Dr Nick Hazel of BP Chemicals (Hull), focusing on the self-assembly of polyoxometalate framework materials. He joined the Nanotechnology and Apoptosis Group as a Juan de la Cierva Fellow (2011-2013) to work with Dr Jesús Martínez de la Fuente on photothermal therapy using asymmetric gold nanoparticles. During this 18-month period he was also an Honorary Research Fellow of the University of Glasgow. In 2012 he obtained a Marie Curie Intra-European Fellowship to investigate 'The Complimentary Combination of Polyoxometalates and Metal Nanoparticles' (COCOPOPS). In 2015 he obtained a ComFuturo contract belonging to the Spanish National Research Council (CSIC). His current academic interests involve engineering and studying the self-assembly of hybrid nanomaterials for a variety of applications in medicine and catalysis.
Position: ComFuturo Researcher (CSIC)
Group Member Since: 2011
Nationality: British
Email: scott@unizar.es
Tel: +34 876 555 361
Main project: PEPA
Other projects: COCOPOPS
Research Interests: Polyoxometalates, Nanoparticles, Photothermal Therapy, Supramolecular Chemistry, Hybrid Materials, Polymeric Capsules
Hobbies: In my spare time I enjoy mountain (fell) running and spending time with my family.